Fire Engines Donated to EFSC Fire Training Center
NEWS MEDIA CONTACT:
Contact: John J. Glisch, Associate Vice President, Communications
Office: 321-433-7017
Cell: 321-794-0324
Email: glischj@easternflorida.edu
Fire Engines Donated to EFSC Fire Training Center
December 11, 2017 - Students training to become firefighters at Eastern Florida State College got some important new tools Monday with the donation of two fire engines from local fire departments.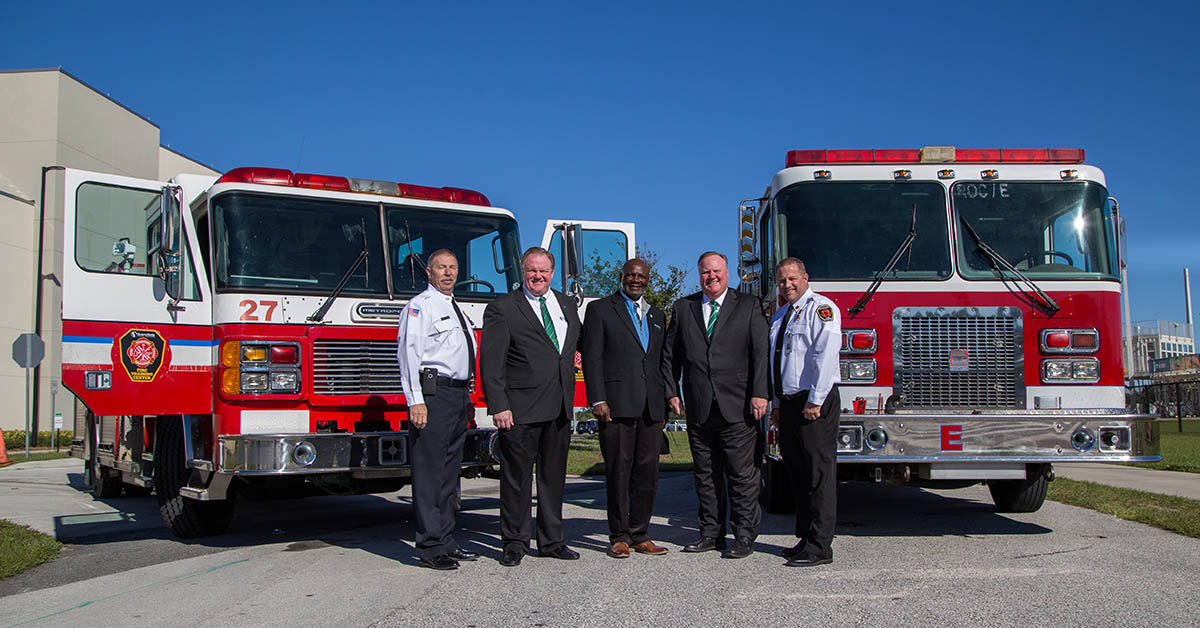 The engines came from Brevard County Fire-Rescue and the Rockledge Fire Department, adding to an impressive array of equipment at EFSC's state-of-the-art Fire Training Center on the Palm Bay campus.
"Thanks to the donation, we can simultaneously conduct basic recruit training and advanced training to provide municipalities throughout Brevard with well-trained firefighters," said Bill Klein, Fire Science Program Manager.
"The engines are another example of the college's close relationship with Brevard's fire departments, and we're very grateful to have received them."
Brevard County Fire Rescue donated a 2000 American LaFrance Fire Engine and the Rockledge Fire Department a 1998 Spartan/Southern Coach Fire Engine.
The trucks were accepted during a brief ceremony at the college's Board of Trustee meeting that included the presentation of appreciation plaques to officials from both Brevard County and Rockledge.
The college opened its new Fire Training Facility in 2016 to train recruit-level and veteran firefighters for all 13 municipal fire departments in the county and Brevard County Fire-Rescue.
That makes the facility a key resource to ensure public safety along the Space Coast.
The center includes a four-story rescue tower, two-story burn building to conduct live burns, a propane field with control center and an academic building with classrooms.
To learn more about the Fire Training Center and its programs, visit easternflorida.edu/go/fire