EFSC Faculty & Staff Prepare for Fall Term
EFSC Faculty & Staff Prepare for Fall Term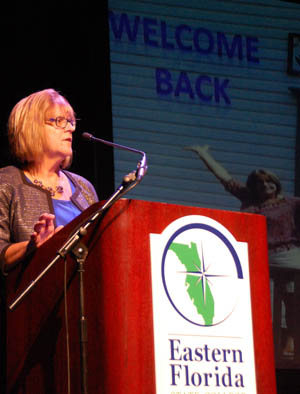 Dr. Linda Miedema, EFSC's VP, Academic Affairs and Chief Learning Officer, welcomes faculty and staff back for the fall term.
August 14, 2014 - Several hundred faculty and staff gathered on the Melbourne campus Thursday for the traditional 'Welcome Back' event marking the start of the fall term at Eastern Florida State College.
"Seeing large numbers of students returning to campus is always exciting, and that's especially true now because of the important accomplishments we have made together that are paying major dividends to our students and community," said college President Dr. Jim Richey.
He noted the Southern Association of Colleges and Schools Commission on Colleges in June fully reaffirmed Eastern Florida's 10-year accreditation without limitation or condition. SACSCOC has also approved a separate accreditation for EFSC's level change from a community college to state college, and with it the ability to offer Bachelor Degrees.
To that end, the college is starting seven new Bachelor Degree tracks this fall in Business, Health Care and Computer Information Technologies, bringing the BAS program total to nine.
"Demand for these programs is high, showing that we are meeting a critical need in providing students an affordable, close-to-home way to advance their education," said Richey.
He thanked everyone for what he called "your dedication and commitment to our students and your passion for higher education and improving the lives of those who enter our classrooms."
Faculty and staff also heard reports on academic issues from Dr. Linda Miedema, Vice President for Academic Affairs and Chief Learning Officer; an update on strengthening campus safety from Jack Parker, Associate Vice President for the Public Safety Institute and College Security; and next-steps for SACSCOC from Dr. Ramona Smith, Associate Professor of Biological Sciences and Director of the QEP Core Scholar Program.