College President Praises Faculty, Staff for EFSC Achievements
NEWS MEDIA CONTACT:
Contact: John J. Glisch, Associate Vice President, Communications
Office: 321-433-7017
Cell: 321-794-0324
Email: glischj@easternflorida.edu
College President Praises Faculty, Staff for EFSC Achievements
August 10, 2017 - Eastern Florida State College President Dr. Jim Richey praised faculty and staff for EFSC's achievements Thursday during a Welcome Back gathering to mark the start of the Fall Term.
The following is a transcript of his remarks given at the King Center for the Performing Arts on the Melbourne Campus.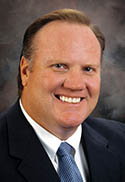 Good morning everyone, and welcome back! I hope you had a great summer and a chance to enjoy yourselves.
As we return to campus and our classrooms, there is exciting news I want to share about the College.
First and foremost, please know that Eastern Florida State College is now a Gold Rated state college!
We recently received this prestigious rating – the first in our history – from the Florida Board of Education for our performance helping students achieve success.
We are one of only seven Florida state colleges to gain the coveted distinction this year. In fact, we finished 4th overall. With it, we have solidified our reputation as a leader in the Florida College System and among all institutions of higher education in Florida.
The College earned high performance grades in four key areas:
High student retention rates,
Significant student completion rates,
Students attaining jobs after graduation or continuing their education and
Wages for graduates in entry-level jobs.
While those are truly impressive results, I know that the real reason for the College's outstanding performance is your hard work and dedication.
Your commitment to excellence propelled us into the Gold Rating. I want to take this opportunity to thank each and every one of you for your commitment to our students. I can tell you that our community appreciates you.
You should also know that the Gold Rating follows another major honor our college received in April, when we were again recognized as among the best in Florida. It occurred at the Chancellor's Best Practices Summit in Tallahassee, where Florida College System leaders gathered to review their performance.
Eastern Florida was cited in the system's top tier for exceeding state goals in several key areas including:
Students attaining employment in their chosen fields,
Students gaining employment or continuing their education after graduating,
Students graduating on time and
Students pursuing a Bachelor's degree after earning an Associate's degree.
In yet another important review, we recently received praise from the Florida Office of Civil Rights during a compliance review that examined all areas of the College dealing with equity and diversity. Civil rights reviewers offered these comments following their detailed weeklong examination:
Said one reviewer: "Eastern Florida State College is one of the best colleges that we have audited."
Said another: "We have heard nothing but good things regarding Eastern Florida."
Those findings reflect our commitment to diversity as a top priority for the College.
Receiving all these honors – from the State Board of Education, the Chancellor's Summit and the Office of Civil Rights – in such a short period of time is an unprecedented achievement. If that isn't enough to cheer about, there is still more.
This marks the 6th straight year that we have not raised tuition, in keeping with our commitment to ensure college remains affordable. That affordability – and the great Eastern Florida education that goes with it – is also recognized nationally.
An annual report from the U.S. Department of Education shows that in 2017 we rank:
18th nationally in lowest tuition among all public colleges and universities and
38th nationally in lowest net prices among all public colleges and universities.
Folks, those are truly outstanding results that directly benefit our students!
Now, turning to this upcoming year, please know that our 40 new academic programs are continuing to grow, with an expected record 1,900 students enrolled this academic year in our 16 Bachelor's degree tracks.
And another important program is coming in January, when we are scheduled to launch a Bachelor of Science Degree in Nursing to help meet a critical need for more highly educated Registered Nurses. We have been determined to offer this program for a long time, because it will give graduates excellent career opportunities as the local demand for more RNs keeps growing.
It will also further the key role the College is playing in helping educate a new generation of health care professionals and meet a wide range of workforce needs in our community. The nursing program will be based in the new Health Sciences Institute on the Melbourne campus, and will also be offered online.
Also on the Melbourne campus, two major construction projects are getting closer to moving off the drawing board and becoming reality as part of the campus' ongoing expansion.
In October, we will break ground on a new Student Union that will be located where the traffic circle now exists between the Titan Field House and the Science Building. It is scheduled for completion in October 2018.
The Student Union will be the centerpiece of student activity and will include space for a variety of student services and clubs and activities. It will also provide a comprehensive food court and a state-of-the-art, large multipurpose room that can host all types of student, college and community events. It's going to be fantastic!
Planning is also underway for the College's first-ever Student Housing Complex, which will be located south of the main parking lot on land that now holds the Wickham Park Pavilion. The housing will allow students to live on campus, making it easier for them to conduct their studies while also enjoying the College's rich collegiate experience.
We still have more work to do and will keep you posted on the plans, but we hope to break ground in the first half of 2018.
Those projects, like everything we do, depend on teamwork. That is why I would now like to announce the winners of this year's STARS awards, which honor employees for their exemplary performance.
The letters in STARS stand for Superlative, Teamwork, Attitude, Responsibility and Service.
The dedication of these employees is a model for all of us to follow, and when I call your name, please come forward to be recognized.
Cherylan Bacheller, Instructional Designer, Palm Bay Campus
Liz Craft, Applications Coordinator, Melbourne Campus
Nate Herman, Maintenance Supervisor, Cocoa Campus
David Houk, Student Advisor, Palm Bay Campus
Judy Lockridge, Administrative Support Assistant, Melbourne Campus
Susan Martel, Administrative Support Specialist, Melbourne Campus
Brittany Miedema, Student Life Coordinator, Titusville Campus
Sarah Poff, Administrative Support Specialist, Cocoa Campus
Michelle Provencal, Science Lab Coordinator, Melbourne Campus
Yolanda Shipley, Administrative Support Specialist, Cocoa Campus
Please join me in congratulating all of our award winners!