No Tuition Increase at EFSC for Ninth Straight Year
NEWS MEDIA CONTACT:
Contact: John J. Glisch, Associate Vice President, Communications
Office: 321-433-7017
Cell: 321-794-0324
Email: glischj@easternflorida.edu
No Tuition Increase at EFSC for Ninth Straight Year
June 15, 2020 - There will be no tuition increase for students at Eastern Florida State College for the ninth straight year, keeping the college among the most affordable in the state.
That is the main feature in EFSC's 2020-21 fiscal year budget, which the college's Board of Trustees unanimously approved Monday.
The $77.5 million plan, which goes into effect July 1, comes amid the COVID-19 pandemic and steep economic downturn. However, college President Dr. Jim Richey said EFSC remains on sound financial footing.
"The budget is a realistic roadmap for the continued success for our students. It will allow them to avail themselves of the incredible opportunities we have made possible in recent years," he said.
Key elements of the budget include:
• No tuition or per credit fee increase for the ninth straight year, a period that corresponds with the time that Richey has been Eastern Florida's president.
"Continuing to hold the line on tuition has clearly benefited our students in the pursuit of their education. That's more important now than ever with many facing economic hardship because of the virus. Keeping their education affordable is something I'm particularly proud of," said Richey.
The total for tuition and general fees will remain $104 per credit hour for lower division courses for Florida residents, which is in line with other state colleges in Central Florida.
The per credit hour charge for upper division courses for Florida residents will remain $128.51, which is similar to other institutions in the 28-member Florida College System of which Eastern Florida is a member.
• The basic annual salary for full-time faculty members of the United Faculty of Florida EFSC Chapter will increase $1,500 in the final year of a three-year collective bargaining agreement.
"Our faculty consistently demonstrate a high level of professionalism and give students the individual attention they need. They are among the best in Florida," said Richey.
• Fully-funds all college programs, including the more than 60 new programs started since 2012, including nearly 25 Bachelor Degree tracks.
• Invests $12.9 million in infrastructure projects, including classroom renovations, new roofs and upgrades to other facilities.
• More than $1.5 million in savings by eliminating vacant full-time positions, plus additional spending reductions in other areas of operations.
In other matters, Richey introduced Dr. Randall Fletcher as the college's new Vice President for Academic and Student Affairs and Chief Learning Officer.
He comes to EFSC from Joliet Junior College in Illinois where he served as Vice President for Academic Affairs.
"Dr. Fletcher has compiled an exceptional record of leadership and achievement during nearly 25 years in higher education," said Richey.
"His experience includes extensive work in academic administration, fiscal and strategic planning, career and workforce program development and evaluation, and student learning assessment. That expertise will be invaluable in the years ahead and we're excited he's joined us."
Fletcher received his Bachelor's Degree from Illinois Wesleyan University, a Master's Degree in Communication from Illinois State University, a Master's Degree in Library and Information Science from the University of Illinois at Urbana-Champaign, and a Doctorate in Higher Education from the University of Illinois at Urbana-Champaign.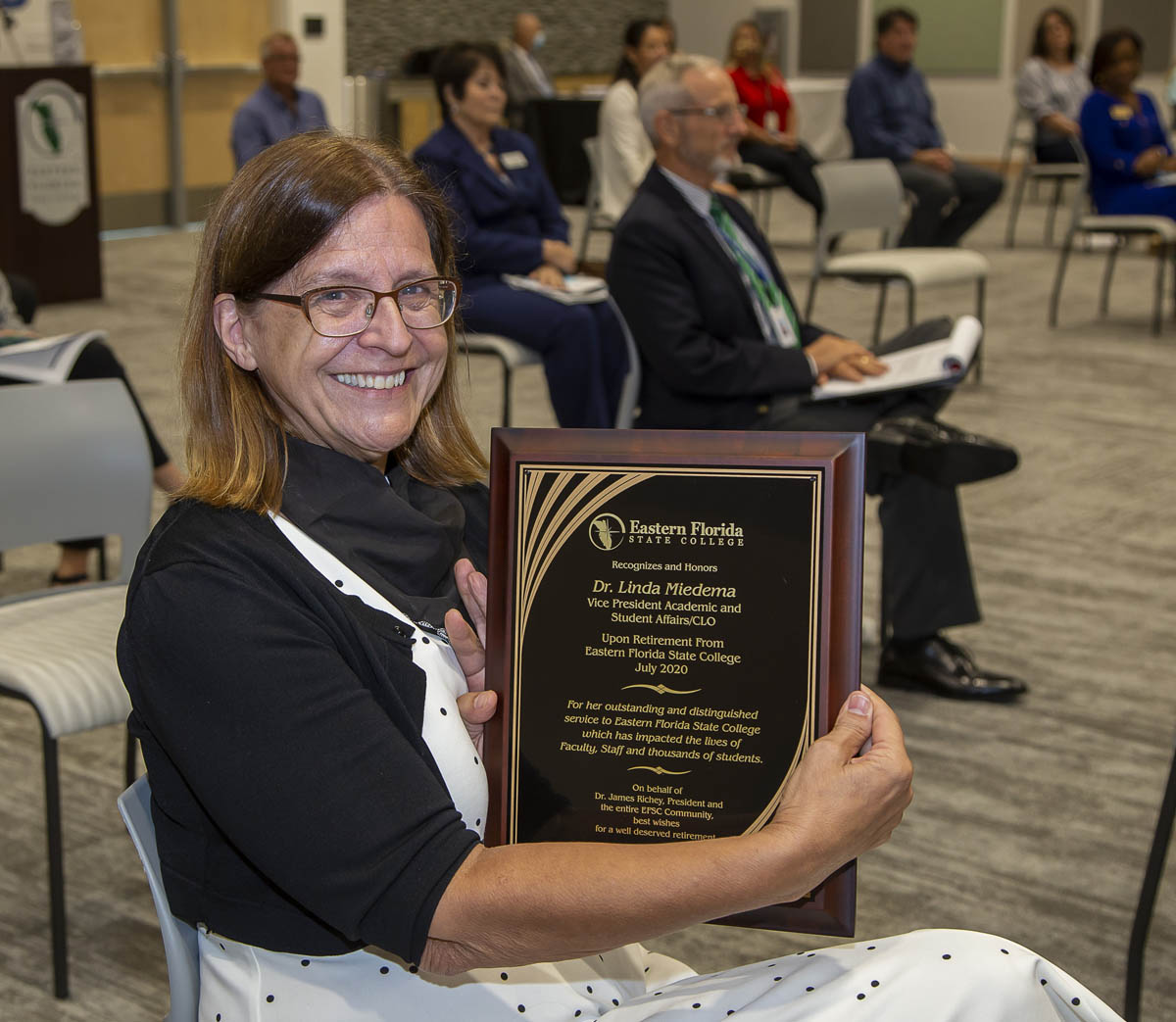 He replaces Dr. Linda Miedema, who is retiring after nearly 20 years of service to the college.
Richey praised Miedema for her key role in helping launch 60 new programs at the college, including Bachelor Degrees that have transformed higher education along the Space Coast.
"The result of those and her many other important efforts have improved the lives of students, fueled growth in local companies and made the college an essential part of economic development in Brevard County and Central Florida, " said Richey.
"She is one of the most exceptional people I have ever worked with and is leaving a profound legacy that will benefit students and the Space Coast for generations to come."