Two EFSC Faculty Honored for Distinguished Performance
NEWS MEDIA CONTACT:
Contact: John J. Glisch, Associate Vice President, Communications
Office: 321-433-7017
Cell: 321-794-0324
Email: glischj@easternflorida.edu
Two EFSC Faculty Honored for Distinguished Performance
January 9, 2020 - Two members of the Eastern Florida State College faculty were honored Thursday for their exemplary performance.
Marina Baratian, a professor who teaches Behavioral Science on the Melbourne Campus, received the 2020 Distinguished Educator Award. Assistant professor Beth Rountree, who teaches mathematics on the Cocoa campus, received the 2020 Excellence in Faculty Mentoring Award.
Dr. Linda Miedema, EFSC's Vice President for Academic and Student Affairs and Chief Learning Officer, presented the awards during the annual faculty Welcome Back meeting to mark the start of the Spring Term on Jan. 13.
"Marina and Beth are outstanding educators whose work with students and their fellow faculty members represent the very best of Eastern Florida State College," said Miedema. "They are a joy to have on campus."
In a nomination letter, Baratian was praised for providing "outstanding instruction" and a "passion for psychology that is clearly exhibited in the classroom."
One student said Baratian made a major difference in her life during a year of personal troubles that left her feeling lost.
"You never seemed to lose faith in me, even when I lost faith in myself. You reignited my determination to succeed. You have no idea what you have done for me," the student said.
Baratian, who has been teaching for more than 30 years, is deeply involved outside the classroom as well.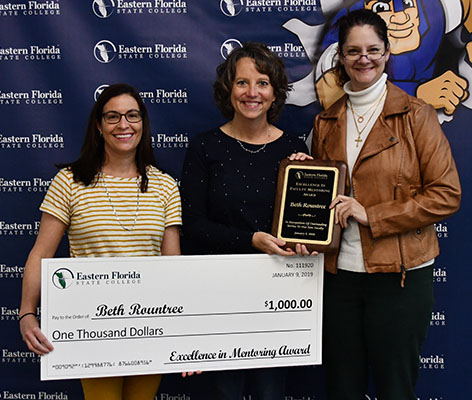 She works with students in the Honors Program, Green Dot Violence Prevention Program and Women's History Month. She is also a hospice volunteer and works with survivors of suicide.
Faculty mentoring honoree Rountree is in her tenth year teaching math at the college and has volunteered several times as part of a college program designed to help ease transition into the college and provide new faculty members a safe, one-on-one resource person to work with in their field as they progress toward tenure.
"I like being helpful and I know what it's like to get to a new institution and not understand everything," said Rountree. "To be able to be a resource for someone and be a non-judgmental place for them to go — I like serving in that role."
The honors include a $1,000 award for Rountree and $1,500 for Distinguished Educator honoree Baratian, funded through the generosity of donors to the Eastern Florida State College Foundation.