Longtime King Center Executive Director Retiring in 2020
NEWS MEDIA CONTACT:
Contact: John J. Glisch, Associate Vice President, Communications
Office: 321-433-7017
Cell: 321-794-0324
Email: glischj@easternflorida.edu
Longtime King Center Executive Director Retiring in 2020
April 15, 2019 - Steve Janicki, the longtime executive director of the King Center for the Performing Arts whose leadership turned the facility into a cultural landmark in Florida, will retire from the position in 2020.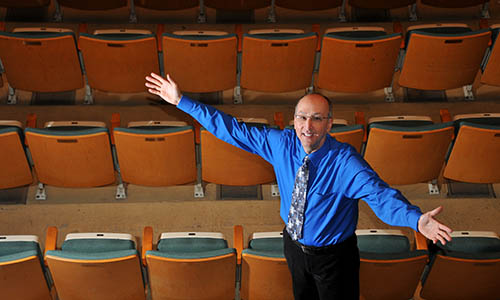 Janicki made the announcement Monday during a meeting of the Eastern Florida State College Board of Trustees.
His departure will end a 33-year career that began in 1987, the year before the King Center opened on EFSC's Melbourne Campus.
The College will conduct a search for a replacement.
"It has been an amazing ride. I've enjoyed every minute of this job," said Janicki, who will leave in May 2020, and is the only executive director in the King Center's history.
College President Dr. Jim Richey thanked Janicki for devoting much of his life to making the King Center a success, "with world-class performers from New York to Nashville to Los Angeles and beyond proud to stand in the King Center's spotlight."
He cited some of the many accomplishments under Janicki. They include:
More than 177,000 artists performing on the main stage and in the Studio Theatre.
More than 115 shows presented annually.
Some 5 million people entertained.
More than $100 million in gross ticket sales.
"Thanks to Steve, three generations of King Center patrons have seen a galaxy of stars without having to step foot into Carnegie Hall, Broadway or the theaters of Hollywood," said Richey.
He went on to praise Janicki's "dedication, professionalism and passionate belief in the importance of the arts to nourish the soul."
"Steve is a real class act whom we can never thank enough for the joy, laughter and inspiration he has brought into our lives," said Richey.
Janicki will spend his final year preparing the King Center for the future through a multi-million dollar renovation this summer that will ensure the building remains a vibrant venue for the arts.
The Board of Trustees gave its final approval to the project Monday with the funding coming from the King Center Endowment.
The work will be the largest renovation in the building's history, remaking the front entrance, lobby and VIP Crown Room. A new cooling and heating system will also be installed.
In other business, the College recognized two people for outstanding service to EFSC:
Art Hoelke, Vice President and General Manager of Knights Armament in Titusville, who has played a key role in establishing an Advanced Manufacturing Center on the Cocoa Campus and providing equipment for that and other programs.


Cathy Holodnak, an administrative assistant in the College's Public Safety Institute, for work in a variety of areas including student services and the new Student Union on the Melbourne Campus.