EFSC Teams with Lockheed Martin, ASRC Federal on Historic Orion Program
NEWS MEDIA CONTACT:
Contact: John J. Glisch, Associate Vice President, Communications
Office: 321-433-7017
Cell: 321-794-0324
Email: glischj@easternflorida.edu
Watch: The Orion Spaceship
EFSC Teams with Lockheed Martin, ASRC Federal on Historic Orion Program
April 2, 2019 - This is shaping up to be a big year in space.
NASA plans to resume launching astronauts to the International Space Station from Kennedy Space Center this summer aboard U.S. rockets, the first time crews will fly from American soil since the Space Shuttle fleet retired in 2011.
That will set the stage for dramatic missions back to the moon – and eventually Mars – with KSC as the launch site.
Eastern Florida State College is playing a role in the historic undertaking through a partnership with Lockheed Martin and ASRC Federal to build NASA's flagship Orion spacecraft for the human exploration of deep space.
Here is how the partnership works:
Students studying for their Associate in Science Degree in Aerospace Technology are serving apprenticeships with Lockheed Martin and ASRC Federal on the Orion project, giving them a gateway to exciting careers and providing the companies a pipeline of highly skilled workers.
Since the program began three years ago, 31 students have secured apprenticeships and Lockheed Martin has hired 30 after graduation.
The partnership is an example of the college working hand-in-hand with the aerospace industry to help chart the next-generation of human spaceflight.
It also reflects the college's deep roots.
The institution was founded in 1960 to assist in training NASA workers at the dawn of the Space Age and has helped supply the workforce for the Mercury, Gemini, Apollo and Shuttle programs.
"This program is vital to us," said Jules Schneider, Orion's Assembly, Test and Launch Operations Manager for Lockheed Martin at KSC. "It not only gives us a chance to try them out, it gives them a chance to try us out."
Matthew Mudrak, who graduated with his A.S. degree in 2016, served an apprenticeship and now works on Orion. He called his involvement life changing.
"I take pride in knowing that everything I'm doing is moving us forward as a nation," he said. "It's awesome to be part of something so much bigger than yourself."
The program's genesis dates to after the shuttle's last flight when many veteran space workers left the program and many of those who remained were aging.
"We quickly realized we had to do something to get the next generation on board before the experienced engineers retired," said Lloyd Gregg, Vice President and General Manager for Spaceflight Support Services for ASRC Federal, which is working with Lockheed Martin on manufacturing and testing Orion.
Lockheed Martin and ASRC Federal reached out to the college and Assistant Professor William Fletcher, who teaches Aerospace Technology on the Cocoa Campus. Together, they set up the program.
Three groups of students a year serve apprenticeships, working 30-hours a week for four months doing hands-on Orion work under the guidance of mentors.
Among those who successfully completed the program is Michael Tang, who graduated in 2015 and who is now working on Orion's electrical systems.
"It was probably the best decision of my life to go through the program," said Tang. "It gave me the opportunity to show them what I'm capable of doing. It prepared me very well."
Said Gregg: "The people have been great. A lot of their skills are honed when they arrive."
Orion had a successful first test flight in 2014, on a short orbital mission without astronauts from KSC. NASA is now targeting 2020 for something far bolder:
An uncrewed flight around the moon following launch aboard NASA's Space Launch System, a rocket larger and more powerful than the legendary Saturn 5 that sent Apollo astronauts to the moon.
During the three-week mission, Orion is to fly about 62 miles above the lunar surface, then swing out to an orbit 40,000 miles high.
It will stay in that lunar orbit about six days to collect data and allow mission controllers to assess its performance.
Finally, it will head home, plunging through Earth's atmosphere at 25,000 mph and splashing down in the Pacific Ocean off Baja California.
The plan calls for Orion to fly a total of 1.3 million miles – further than any spacecraft built for humans – and prime NASA for crewed flights back to the moon and someday to Mars.
Orion's first lunar mission with astronauts is currently scheduled for 2022 and will be nothing short of breathtaking.
After a KSC launch, the spacecraft would ferry the crew to low-Earth orbit before an engine firing pushes it toward the moon.
The crew will fly Orion nearly 43,500 miles beyond the moon – something far beyond the capability of the Apollo missions – before completing a lunar flyby and returning to Earth.
The mission will take at least eight days and collect valuable flight test data.
That could lead to astronauts walking on the moon as soon as 2024 under an accelerated schedule recently announced by Vice President Mike Pence.
The two Orion spacecraft to be used on the 2020 and 2022 flights are now at KSC undergoing assembly.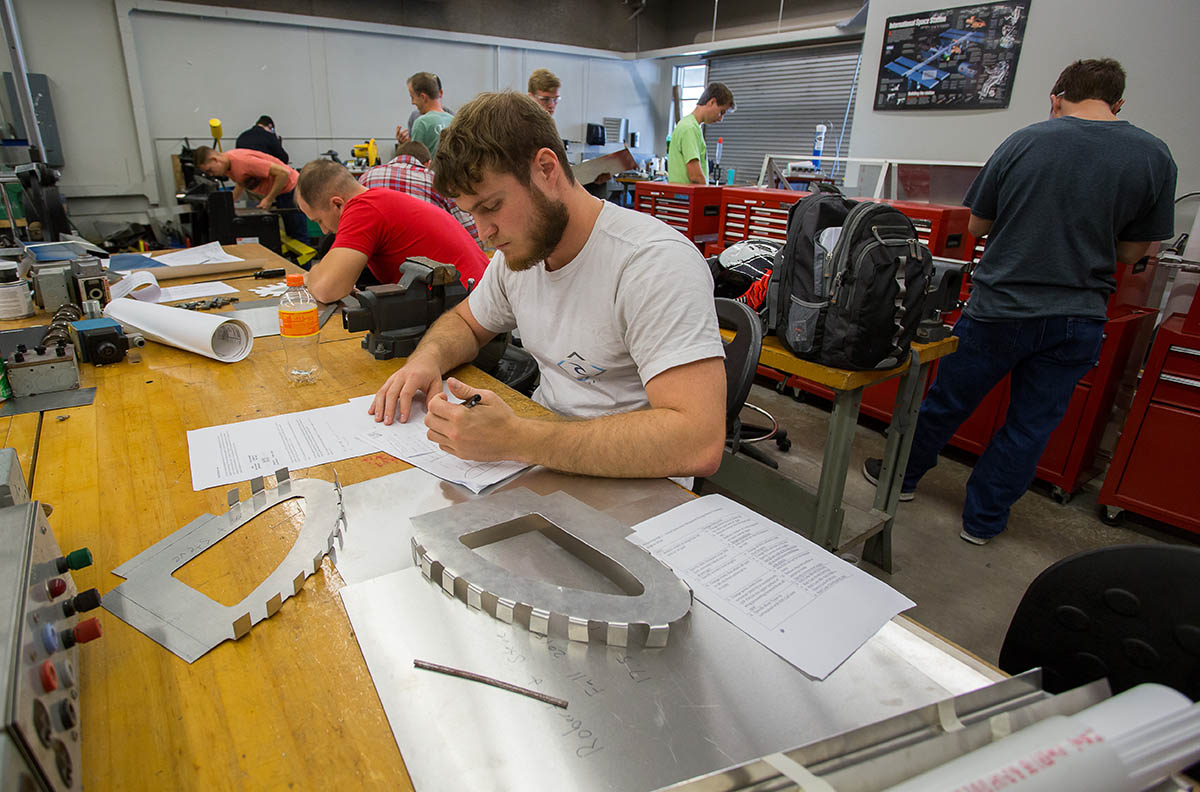 The pioneering nature of Orion is not lost on the EFSC graduates, some of whom have space exploration in their blood.
For instance, Mudrak's father was a 30-year veteran of the shuttle program who encouraged him to study Aerospace Technology at the college.
Mudrak now performs "very precise metal fabrication, down to the thousandths of an inch" on Orion, he said.
There is also Diamond Scharfenstine, a 2015 graduate who is the fifth generation of her family to work at KSC where she is an Orion quality inspector.
Tang summed up his feelings this way: "It's very humbling to think about what we're trying to accomplish here."
The Lockheed Martin team has a major milestone coming this summer at Cape Canaveral with a test that will demonstrate Orion's launch abort system that will pull the capsule and crew away from the Space Launch System rocket if something goes wrong during launch.
Meanwhile, Lockheed Martin plans to keep the apprenticeship program going, saying it is central to maintaining a strong workforce as NASA prepares to send astronauts deeper into space than ever before.
"The relationship between the college and Lockheed will go on for years because this (Orion) is a generational program," said Schneider.