Florida Today honors Brevard Volunteers at EFSC Event
NEWS MEDIA CONTACT:
Contact: Suzanne A. Rains, APR, CPRC
Office: 321-433-7022
Cell: 321-537-6986
Email: rainss@easternflorida.edu
Florida Today honors Brevard Volunteers at EFSC Event
November 14, 2018 - Volunteers are the heart of a community, giving countless hours of their time to help others and asking nothing in return.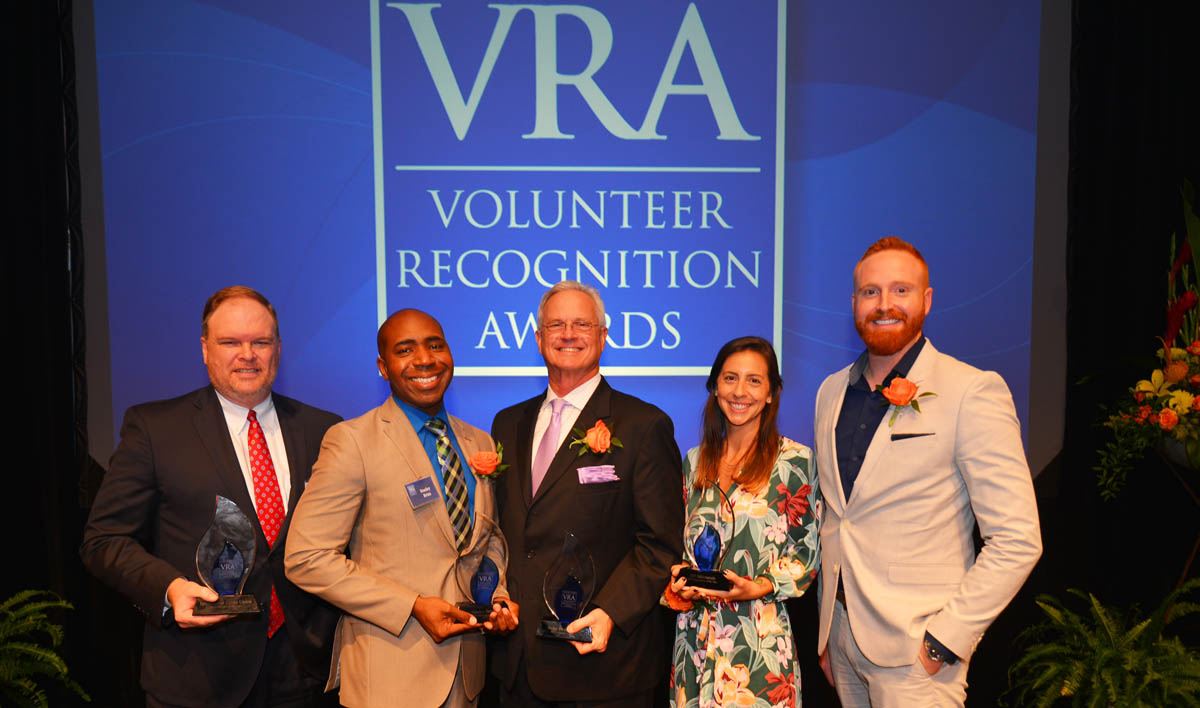 Brevard County residents who exemplify that dedication were honored Wednesday evening during the 27th Annual Florida Today Volunteer Recognition Awards at Eastern Florida State College.
Several hundred community leaders gathered for the event at the Simpkins Fine Arts Center on the Cocoa campus where it was recorded for later broadcast on WEFS-TV.
It will air on the station Saturday, Nov. 24 at 8 p.m. and Sunday, Dec. 9 at 3 p.m.
Here are the winners with a summary of their achievements as provided by Florida Today:
Organization of the Year: 321 Millennials
321 Millennials are a group of young professionals who are ready and eager to help build a stronger Brevard.
The grassroots organization, started in 2015 by Shane Burgman, grew by word-of-mouth. Burgman's stint in the Navy nurtured his interest in volunteerism, and he wanted to continue the momentum after leaving the military.
He enlisted the help of a couple of friends to tackle service projects. Those friends told other friends, and the group blossomed.
Now 70-plus members strong, 321 Millennials maintains a strong focus on service. Keep Brevard Beautiful loves 321 Millennials, for the group's many service projects include 10 beach cleanups, and counting. Ditto for Brevard Zoo, where the Millennials hosted oyster mat workshops for Indian River Lagoon restoration.
321 Millennials also lent their expertise to clients of the Brevard Achievement Center, conducting mock interviews to prepare them in their quests for jobs.
The group, which also offers networking opportunities for young professionals, believes in fun with a purpose, with activities such as an Easter basket brigade and Smash Golf tournament for the Haven for Children and a Superhero 5K for Friends of Children of Brevard.
"There is no limitation on who we can help," said vice chair Akaila Amara.
Volunteer of the Year: Judge David Dugan
Circuit Judge David Dugan seems to be everywhere.
"He loves Brevard County and is the first one to volunteer for any project that involves helping," said Yvonne Minus, president of the Melbourne Police Community Relations Council and vice mayor of the city, when nominating Dugan for Volunteer of the Year.
Building playgrounds or a dog park in Rockledge, picking up trash during Spring Praise Fest in Cocoa Village, assembling and delivering Thanksgiving meals, seeing off veterans as they head to Washington, D.C. on an Honor Flight: No task is too big or too small for this stalwart volunteer.
He also feels strongly about making an impact on at-risk young people before they end up meeting him in the courtroom. He has supported the Summit of Seven, a year-round mentoring program, for two decades. The program encourages boys between 5 and 18 to value education and community.
Dugan feels a kinship with these boys. "I grew up in a dysfunctional and abusive family and left home when I was 16," he said.
He worked his way through college and law school before joining the U.S. Army. Dugan became a Circuit Court Judge for Brevard and Seminole Counties in 1998. "I could have easily gone the other way," he said. He believes others can do the same, regardless of where they start out in life.
Business of the Year: Space Coast Credit Union
Rob Rains, president of the United Way of Brevard, remembers only too well how conditions were in the aftermath of Hurricane Irma last year; what was open and what wasn't, what worked and what didn't. One of the businesses that worked well was Space Coast Credit Union.
"Although they had to close during the storm, because of the technology they had deployed the previous months, they were able to do this in a rolling fashion and reduce the impact for their members. All their 78 ATMs remained online and in service during the storm, as well as their online and mobile banking," Rains said.
In the past 12 months, employees of Florida's third largest credit union have volunteered for a long list of charitable endeavors, including the Florida Breast Cancer Foundation, an annual supply drive for the Brevard Schools Foundation and a food drive for the Central Brevard Sharing Center.
There are also the things SCCU employees simply do, like donating blood at the credit union's headquarters in Melbourne and organizing in-house disaster relief drives after the likes of Irma.
"This powerhouse group of individuals comes together as Space Coast Credit Union to do amazing things for their members and our community," wrote Tambre Brake, United Way's director of investor relations.
Citizen of the Year: Stanley Brizz
Stanley Brizz, director of community services at Eckerd Connects, understands the devastation wrought by opioid addiction only too well.
"I've had personal experience with it," he said softly. "I had a best friend die because of it, and he was in his mid-20s. People misunderstand why and how it happens."
That's why Brizz also chairs the Brevard Youth Substance Abuse Prevention Coalition and the Brevard County Opioid Abuse Task Force. "People need to know that opiate addiction is not a character flaw, but an illness, and it can happen to anyone," he said.
Brizz also has a passion for aiding the homeless. He has helped feed, shelter and clothe hundreds of children, supporting case managers all the way.
"Last year our district had over 2,800 homeless students," said Sally Shinn, homeless liaison for Brevard Public Schools. "Stanley's efforts have housed over 250 of them."
Shinn, a longtime area educator who once led the Space Coast Early Intervention Center, is an unabashed admirer.
"I have been in the field of education for nearly 50 years and worked for two colleges, eight school districts, managed a nonprofit and have held four different resource teacher positions... I mention these because in all of these work settings, no one has compared to Stanley Brizz for his quiet, thorough methods."