EFSC President Praised for Performance, Contract Extended
NEWS MEDIA CONTACT:
Contact: John J. Glisch, Associate Vice President, Communications
Office: 321-433-7017
Cell: 321-794-0324
Email: glischj@easternflorida.edu
2017 Accomplishments Booklet
EFSC President Praised for Performance, Contract Extended
February 5, 2018 - The Eastern Florida State College Board of Trustees has extended the contract of college President Dr. Jim Richey to 2023 after praising his work leading EFSC.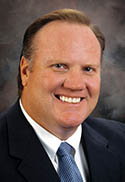 The trustees took the unanimous action Monday during Richey's annual performance review for 2017, the latest since he became president in 2012.
Trustees lauded his accomplishments, including a prestigious Gold Rating from the Florida Board of Education for student success, the first time the college has earned that distinction in its history.
"The college's accomplishments have been massive and significant," said Trustee Dewey Harris. "It's a team effort, he put the team together and it's playing well."
Trustee Myra Haley called Richey's work "phenomenal in meeting student, community and industry (workforce) needs."
Said Trustee Moses Harvin: "I'm impressed and elated to have a president with his vision and leadership."
Added Board Chair Alan Landman: "It has been an amazing journey, an amazing year, and it would not have happened without Dr. Richey."
Richey thanked the college's faculty and staff for making Eastern Florida one of the top institutions of higher education in Florida, and Space Coast residents for supporting the college's progress.
He also asked the Board not to consider any possible compensation increases to his contract at this time, saying the focus should instead be on potential salary increases for faculty and staff.
The Board agreed, saying they would reexamine the matter in June.
Richey noted that negotiations would begin soon with the United Faculty of Florida Brevard County Chapter on a new three-year contract for full-time instructors.
"As we all know, the college endured approximately $2.2 million in operating cuts this year as part of the state Legislature's $30 million cut to the Florida College System," said Richey.
"As a result, we were not able to provide any raises for staff or provide them cost of living payments. Our faculty, fortunately for them, received a 2.5 percent raise based on a three-year deal we had previously struck with them," he said.
"We should focus our attention on successfully meeting our faculty and staff's economic interests in the context of next year's expected available resources.
"The bottom line is I'd like to see us first take care of the folks who are working so hard to make us one of the premier educational institutions in Florida," he said.
The college's accomplishments under Richey in 2017 were detailed in a 24-page page booklet that trustees cited. The highlights included:
A Gold Performance Rating for student success from the Florida Board of Education, one of just seven colleges in the 28-member Florida College System to earn the distinction.
Record numbers of students enrolled in Bachelor's Degree programs and online learning courses.
Not raising tuition for the sixth straight year to keep higher education affordable.
New building projects to support expanding academic programs, including the opening of a $20 million Health Sciences Institute on the Melbourne campus.
Growing the endowment of the EFSC Foundation to a record of nearly $11.2 million to provide more student scholarships.
Advancing initiatives to enroll and retain more minority students.
Added emphasis on programs to tutor students, provide career services and aid military veterans.