Student Housing Gains Approval on EFSC's Melbourne Campus
NEWS MEDIA CONTACT:
Contact: John J. Glisch, Associate Vice President, Communications
Office: 321-433-7017
Cell: 321-794-0324
Email: glischj@easternflorida.edu
Student Housing Gains Approval on EFSC's Melbourne Campus
December 11, 2017 - For the first time in its history, Eastern Florida State College will have student housing on its Melbourne campus as the college continues its unprecedented expansion.
The college's Board of Trustees approved the project Monday, with construction planned to start in fall 2019 and an estimated completion date of January 2020.
"This is a very exciting new chapter for Eastern Florida that will enrich the full collegiate experience for our students," said college President Dr. Jim Richey.
"They have expressed an overwhelming desire to have the option of living on campus and now they'll have that opportunity. We can't wait for them to start moving in."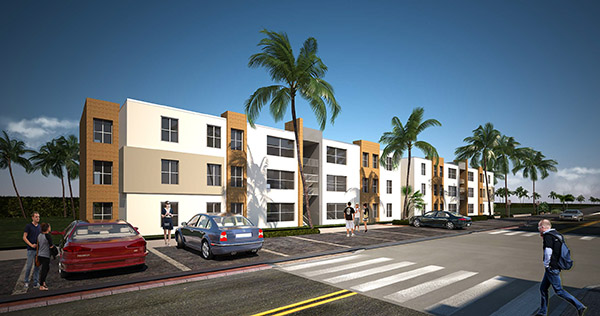 The project envisions a 96-bed facility divided into suites consisting of four individual bedrooms, two shared bathrooms, a shared kitchen and a common living space.
A smaller adjacent facility would include a laundry, study area and multi-purpose room. Parking and security will also be provided.
Rental rates will be determined after the final design is finished next year.
The housing will be available to all full-time students with housing rules governed by the college's Student Code of Conduct.
The project will rise on 10-acres of college-owned property that was the former site of Brevard County's Wickham Park Pavilion. The county used the property under a 30-year lease with EFSC that ended in December 2017.
Funding for the approximately $5.2 million project will come from non-state appropriated money collected from college business activities such as leasing cell towers on its campuses.
No money from student tuition will be used.
Richey called the housing a "perfect fit" for the Melbourne campus because students can participate in a wide range of student activities, clubs and sporting events.
The facility will also be a short walk from a new Student Union now under construction that will be a centerpiece for student life and include food services that housing residents can use.
The Student Union is set to open in fall 2018. It follows a new Public Safety Institute and new Health Sciences Institute along with plans for a new Center for Innovative Technology Education.
All the work has been accomplished since 2014 to support 40 new academic programs, including 17 Bachelor's Degree tracks in top career fields that currently have about 1,900 students enrolled.
"The housing ties together everything we're doing and further cements our commitment to giving students a first-class education," said Richey. "Now is the right time to build it."
Richey also noted the housing site has room for expansion, with the possibility of more buildings added in stages in the future.
Eastern Florida joins seven other members of the Florida College System that have student housing as more students seek on-campus residency to pursue their degrees.
They are the College of Central Florida, Indian River State College, Florida Southwestern State College, South Florida State College, Florida State College at Jacksonville, Florida Keys Community College and Hillsborough Community College.
In giving Eastern Florida's housing the green light, the Board of Trustees also approved the formation of a Direct Support Organization to own and operate the residence hall.