Titan's Toast to Health Raises Scholarship Funds
NEWS MEDIA CONTACT:
Contact: John J. Glisch, Associate Vice President, Communications
Office: 321-433-7017
Cell: 321-794-0324
Email: glischj@easternflorida.edu
Titan's Toast to Health Raises Scholarship Funds
October 5, 2017 - Incredible, amazing, impressive.
Those were just a few of the adjectives flying around Eastern Florida State College's new Health Sciences Institute hallways on Thursday night.
More than 400 guests got a glimpse of the $17 million facility on the Melbourne campus during the Titans Toast to Health fundraising event to benefit student scholarships funded through the EFSC Foundation.
"Tonight you see a tiny glimpse of the very comprehensive, intense health science programs that we offer here at the college," Eastern Florida State College Vice President of Operations Richard Laird said. "Some say it is the finest building of its kind in the state of Florida and we believe that."
Students were on hand to demonstrate how they use the specialty labs and equipment every day in the classroom as attendees also visited tables filled with tapas and wines which were all donated for the event.
Guests were given a booklet with a facility map and a 'Bill of Health' card. As they visited each of the Institute's departments, they received a stamp for their card, with filled cards then entered in a special drawing.
A highlight of the evening was the celebration of two major donations: the Space Coast Health Foundation announced a $28,000 endowed scholarship and Cape Design Engineering Co. was recognized for its recent $25,000 donation.
"Thanks to all of you and your generous support, we are able to offer financial assistance to the students who are in need," Laird told the group as he welcomed everyone to the facility. "We change our students lives by preparing them for high-paying careers in the healthcare industry, one of the many programs we now offer at the college."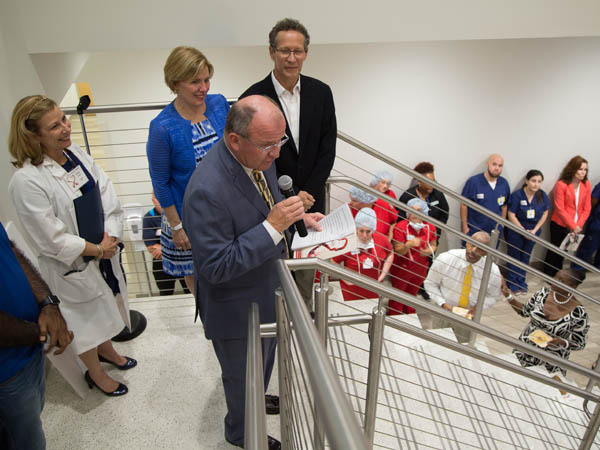 Event sponsors included Boniface Hiers, Cape Design Engineering Company, Merrill Lynch, BRPH, Ajax Building Corp., Flammio Financial Group, Atlantic Orthopaedic, Boys Electrical Contractors, Southern Glazer's Wine & Spirits of Florida, Constellation Brands, Dr. and Mrs. Larry Bishop and Dr. and Mrs. R.M. Kriete.
In-kind sponsors who created the amazing array of food and wine included Rustic, Jacqueline's Bakery, Red Ginger, The Fat Snook, Crush Eleven, Mary Storey Confections, Pizza Vola, Green Turtle Market & Grapevine Cafe and Gator's Dockside.
Learn more about the not-for-profit EFSC Foundation at easternflorida.edu/foundation