Association of Florida Colleges Conference Held at EFSC
Association of Florida Colleges Conference Held at EFSC
April 21, 2017 - Higher education leaders from across Florida gathered Friday at Eastern Florida State College to trade ideas and discuss better ways to help students and improve their colleges.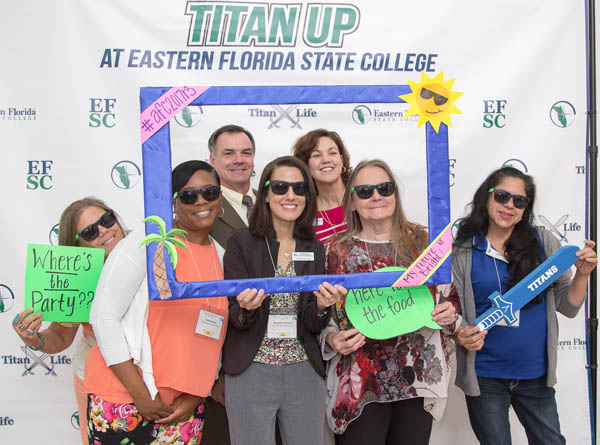 The Association of Florida Colleges (AFC) conference, held on the Melbourne campus, included participants from AFC Region III, which includes Eastern Florida, Daytona State College, Valencia College, Seminole State College, Lake Sumter State College and the College of Central Florida.
It was also a joint session for the AFC's Facilities Commission, which includes representatives from around the state.
"Professional development is important to the success of our colleges, and today's conference allows everyone to network and take back valuable information to share with their colleagues," said Christine Warner, EFSC's Director of Student Recruitment who also serves on the AFC's Board of Directors.
Warner noted that Eastern Florida's AFC membership has grown nearly 20 percent over the past year as more employees take advantage of the opportunities the association offers.
Richard Laird, Eastern Florida's Vice President for Operations, welcomed the group and talked about the college's strong connection to the nation's space program at NASA's Kennedy Space Center.
Many EFSC graduates have worked for NASA and its contractors, with college programs still supplying highly-skilled workers to companies launching the next-generation of human spaceflight.
"We're extremely proud of our close relationship with NASA that's as strong as ever," said Laird. "When astronauts go back to the moon and journey to Mars, I have no doubt that Eastern Florida graduates will play a role."
The approximately 100 Association members attending the conference later toured the college's new state-of-the-art Health Sciences Institute and attended a series of workshops.

To learn more about the Association of Florida Colleges, visit http://www.myafchome.org