EFSC President Named as Newest Florida High Tech Corridor Council Member
NEWS MEDIA CONTACT:
Contact: John J. Glisch, Associate Vice President, Communications
Office: 321-433-7017
Cell: 321-794-0324
Email: glischj@easternflorida.edu
EFSC President Named to Florida High Tech Corridor Council
October 4, 2015 - Dr. James Richey, president of Eastern Florida State College, has been appointed as the newest member of the Florida High Tech Corridor Council, a group focused on economic development.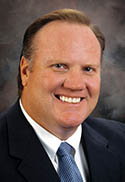 Richey brings a wealth of academic and business expertise to The Corridor Council, as he replaces Dr. Charles Mojock, who will retire as president of Lake-Sumter State College. Since being named president of Eastern Florida State College in 2012, Richey expanded the college to offer its first four-year degree programs, and led the school's transformation from Brevard Community College to Eastern Florida State College in July 2013.

Before his selection as president, Richey held several key positions at Eastern Florida, including executive vice president and general counsel. Richey's association with Eastern Florida State College began in July 2007 when he was appointed to the board of trustees by Gov. Charlie Crist.
Prior to joining the college, Richey owned his own law practice in Melbourne, Florida, from 1994 to 2008. His work included advising businesses on contract negotiations, employment policies, corporate governance and charitable giving programs. He is also a current member of the United States Tax Court and the Florida Bar Association.
"We are proud to welcome Dr. Richey as the newest member of our Council," said Corridor President Randy Berridge. "He will provide valuable guidance and support to The Corridor as we work in collaboration to train and develop our region's high tech workforce."
"It's an honor to serve on the Council and I look forward to doing everything I can to use the resources at Eastern Florida to increase the creation of new jobs and economic growth in our region," said Richey.
Richey earned a bachelor's degree in accounting from Michigan State University in 1985, and a juris doctor degree from Ohio State University in 1988.
About The Florida High Tech Corridor Council
The Florida High Tech Corridor Council is an economic development initiative of the University of Central Florida (UCF), the University of South Florida (USF) and the University of Florida (UF). The mission of The Corridor is to grow high tech industry and innovation through partnerships that support research, marketing, workforce and entrepreneurship.
A partnership involving more than 25 local and regional economic development organizations (EDOs), 14 state/community colleges and 12 CareerSource boards, The Corridor is co-chaired by the presidents of UCF, USF and UF. The Corridor includes the presidents of two state colleges, the president of the Florida Institute of Technology and representatives of high tech industry.
The unique partnership has resulted in a strategic approach to high tech economic development that supports matching funds research, marketing, workforce development and entrepreneurship leveraging governmental, EDO and corporate budgets on a regional rather than local basis.

For more information, visit www.floridahightech.com