Faculty Art Show to Open at King Center
NEWS MEDIA CONTACT:
Contact: Suzanne A. Rains, APR, CPRC
Office: 321-433-7022
Cell: 321-537-6986
Email: rainss@easternflorida.edu
Faculty Art Show to Open at King Center
September 2, 2015 - Students and community members can see a selection of artwork created by Eastern Florida State College faculty members during an exhibit at the King Center for the Performing Arts Harris Corporation Lobby Gallery from September 28 to October 25.
Sculpture in ceramics, paper, resin and fibers as well as paintings, drawings and photography will be on display.
Exhibiting artists include Georgi Gelalles, Bobbie McMillan, Dustin Robertson, Lynn Spencer and Joanna White from the Melbourne Campus, and Marilyn Cook from the Cocoa Campus.
The exhibiting faculty teach courses in the fields of Studio Art, Photography and Humanities.
"This year we're focusing on the process behind our personal artwork," said Joanna White, Program Coordinator for the Art Department on the Melbourne Campus.
"We will be presenting preparatory sketches, photos of the work in progress, and studio views alongside the finished artwork.
"It's a 'behind the scenes' glimpse into our minds, something the average community member or student would not normally see.
"Since we teach design process and stages of art production to our students, this is a great educational opportunity.
"We want to show our students that the same thing happens at the professional level."
The EFSC Faculty Art Exhibit will host a public reception on Tuesday, October 6 from 7 - 9 p.m., with faculty in attendance to answer questions. It will also be open to the public on Mondays and Wednesdays from 3 - 6 p.m., and Tuesdays and Thursdays from 11a.m - 2 p.m.
The EFSC Art Department offers courses in Drawing, Figure Drawing, Painting, Ceramics, Design, Printmaking and Sculpture.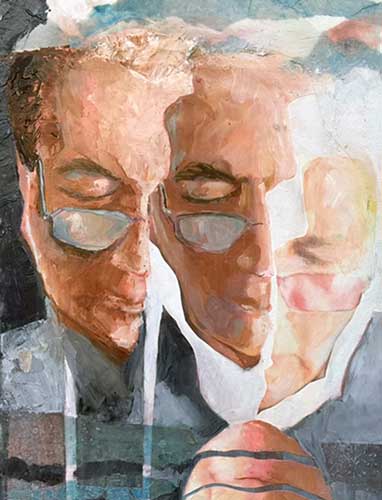 Students can take core art courses required for four-year degrees in fields such as Graphic Design, Interior Design, Fashion Design, Art Education, Art Therapy and Studio Art.
Many students in unrelated fields benefit from the art courses as well.
"The EFSC art program far exceeded any expectation I had," said Kevin Hodges, a recent EFSC graduate.
"World class professors fostered an atmosphere that built an academic framework for artists of any skill level, and then continued to shape our artistic growth even well after graduation."
Hodges is currently a Web Developer for IAP Worldwide Services based in Cape Canaveral.
For more information about the exhibit call 321-433-5717.