Trustees Praise Eastern Florida President for 'Magnificent' Job
Trustees Praise Eastern Florida President for 'Magnificent' Job
February 3, 2015 - Eastern Florida State College President Dr. Jim Richey was praised Tuesday for a "magnificent" job in leading the college forward by the Board of Trustees who extended his contract to 2020.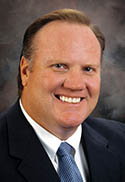 The trustees took the action during Richey's third performance review since he became the college's chief executive in 2012.
They were unanimous in citing accomplishments that include starting new academic programs, high graduation rates and expanding business partnerships.
"He continues to lead with tremendous energy and drive," said Board Chair Steve Charpentier. "We are now seeing the magnificent results of careful planning and great execution."
"Dr. Richey continues to provide pro-active leadership and management of the college," said Trustee Dewey Harris.
"He is covering all the bases to ensure that the college provides an excellent and safe academic environment for its students, and that the college continues to be a vital participant in local community and business activities."
Vice Chair Alan Landman went on to say Richey had "an incredible year" while fellow Trustees Moses Harvin and Myra Haley used words like "outstanding" and "fabulous" to describe his work.
Richey thanked the board for their support, and said the college's faculty and staff deserve credit for the achievements.
"Those are the folks (EFSC faculty and staff) who every single day are bringing passion to the college and to them I say thanks," said Richey. "Our support from the community and businesses is also very important, and we wouldn't be here today without them as well."
Richey's major accomplishments in 2014 included:
• Earned 10-year reaccreditation from the Southern Association of Colleges and Schools Commission on Colleges with Eastern Florida meeting the highest possible academic and administrative standards.
• Did not raise student tuition for the third straight year in a $74 .4 million Fiscal Year 2014-15 budget that included the first raise for adjunct faculty since 2006.
• Announced a $75 million expansion for the Melbourne campus with a plan to build five new academic buildings and new student union during the next decade.
• Completed construction on a new $14 million Public Safety Institute in the first project of the expansion, and gained $2.5 million in state funding to plan for building a new Health Sciences Institute in Melbourne.
• Continued to grow the college's new Bachelor Degree programs with nine tracks now taught in Business, Health Care and Computer Technology.
• Achieved 4th highest graduation rate in the 28-member Florida College System with 46.4 percent earning diplomas, and 2nd highest rate among FCS colleges with more than 10,000 students.
• Began the Office of Undergraduate Research to provide students the opportunity to pursue research projects that will better prepare them for Bachelor Degree programs.
• Expanded the successful Core Scholar Program to improve student performance through tutoring, coaching and workshops.
• Expanded the college's Security Force and Reserve Officers to further strengthen campus safety and put more officers on duty during each shift.
• Eastern Florida ranked 26th nationally in awarding Associate Degrees among more than 1,200 similarly-sized colleges in the U.S., according to the U.S. Department of Education.
• Reached another milestone at the Career Planning and Development Center with 38,000 students receiving career guidance since it opened in 2012.
• Grew the Eastern Florida State College Foundation's Endowment for student scholarships to $20 million, the largest in the college's history.