EFSC President Named 2014 "Business Leader of the Year"
NEWS MEDIA CONTACT:
Contact: John J. Glisch, Associate Vice President, Communications
Office: 321-433-7017
Cell: 321-794-0324
Email: glischj@easternflorida.edu
EFSC President Named 2014 "Business Leader of the Year"
December 3, 2014 – Dr. Jim Richey, president of Eastern Florida State College, has been named the 2014 Business Leader of the Year by SpaceCoast Business magazine for providing students new career choices and strengthening business partnerships.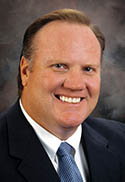 Richey received the honor Tuesday night at the magazine's annual awards dinner where he was praised for a series of major initiatives that are making the college a central player in local and regional economic development.
"Dr. Jim Richey's leadership and contribution to the community and to Eastern Florida State College made him the obvious choice for the 2014 Business Leader of the Year," said SpaceCoast Business Editor Eric Wright.
"He has successfully expanded the scope of one of the area's most important talent generators, broadening EFSC's vision and multiplying its impact."
The magazine cited Richey's work in starting 27 new programs since early 2012 in the fast-growth career fields of business, health care and computer technologies as a key reason for the award.
The programs provide students with solid employment opportunities upon graduation and give businesses and industry the skilled talent pool they need to help them grow, the magazine said.
Richey was also praised for launching at nearly $75 million plan to expand the college's Melbourne campus by constructing five new academic buildings and a student union that will make the site a vital center for higher education and workforce development in the decades ahead.
Furthermore, Richey has "aggressively developed partnerships with companies in dynamic growth areas such as Melbourne International Airport and Port Canaveral" that are helping create new jobs, the magazine said.
In receiving the award, Richey thanked the college's Board of Trustees for their "strong support and exceptional leadership in expanding Eastern Florida's mission to improve the lives of our students and our community."
He also credited businesses for working closely with the college to develop the new programs and offering internships to students to prepare them for their careers.
"Developing more businesses partnerships is among my highest priorities because of the benefits those relationships bring to everyone," he said. "Together, we make an unstoppable team."