Trustees Praise Eastern Florida President for 'Spectacular' Performance
NEWS MEDIA CONTACT:
Contact: John J. Glisch, Associate Vice President, Communications
Office: 321-433-7017
Cell: 321-794-0324
Email: glischj@easternflorida.edu
Trustees Praise Eastern Florida President for 'Spectacular' Performance

February 3, 2014 - Eastern Florida State College President Dr. Jim Richey received a strong vote of confidence Monday from the Board of Trustees, who called his performance "spectacular" and extended his contract to 2019.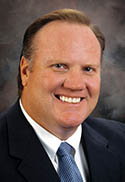 The action came during Richey's second performance review since he assumed the college's leadership post in January 2012.
Trustees unanimously extended his five-year contract another year to 2019, saying he is achieving the vision he detailed to the board when they selected him.
The central part of the plan has been the college's move to start offering four-year Bachelor Degrees in fast-growth job fields that give students the skills they need to find employment upon graduation.
The first two degrees were launched last year with more planned for 2014.
"We're very fortunate and lucky to have Dr. Richey as our president," said Board chair Alan Landman, who cited a list of accomplishments that included high student graduation rates and community support for the college's initiatives.
"I think he did a spectacular job," added board vice chair Steve Charpentier. "I have watched him exceed virtually all my expectations."
Said trustee Myra Haley: "I think he's done a phenomenal job. I totally support him and agree with what he's done."
Richey thanked the board for their support, saying he wants to remain at Eastern Florida "for the rest of my career."
He also credited the faculty and staff for their work in transforming what had been Brevard Community College into a state college with a strong national reputation.
"They're the ones getting it done every day," he said.
Richey's major accomplishments in 2013 include:
• Leading the smooth transition from BCC to Eastern Florida State College in a historic move that has garnered strong community and regional support.
• Successfully launching the college's first two Bachelor Degree programs in August 2013 with another seven Bachelor Degree tracks scheduled to start in August 2014.
• Ensuring the college's reputation as a national academic leader, ranking 23rd in the U.S. in awarding Associate Degrees and rating among the top colleges in graduation rates in the Florida College System.
• Leading the successful reaccreditation process with the Southern Association of Colleges and Schools, with SACS officials saying reaccreditation is assured and praising the college as a "great institution."
• Crafting a fiscally strong $74.2 million operating budget that did not raise tuition for the second straight year and fully funded all academic and other programs.
• Initiating an economic impact study that showed Eastern Florida contributes nearly $1.1 billion annually to the Brevard and East-Central Florida economies.
• Continuing development of the Career Planning & Development Center, with nearly 28,000 students using its services for career advisement and internships since it opened in 2012.
• Creating a partnership with the Brevard County Sheriff's Office and local police departments to strengthen college security, including opening police substations on all four campuses.
• Opening a new Veterans Center that provides specialized assistance to veterans enrolled at the college and expanding services for their educational and personal needs.
• Boosting fundraising at the Eastern Florida State College Foundation with a nearly $18.2 million endowment, the largest in the college's history.
• Breaking ground on a new $13.2 million Public Safety Institute as the first step in a planned expansion of the Melbourne campus in coming years to meet new program growth.
• Leading Eastern Florida to a place among the top 150 colleges in the nation in competition for the prestigious Aspen Prize for Community College Excellence from more than 1,000 nominated institutions.