EFSC Celebrates Inaugural Graduation
NEWS MEDIA CONTACT:
Contact: Suzanne A. Rains, APR, CPRC
Office: 321-433-7022
Cell: 321-537-6986
Email: rainss@easternflorida.edu
EFSC Celebrates Inaugural Graduation
December 19, 2013 - The first graduating class from Eastern Florida State College accepted their diplomas at fall commencement ceremonies after hearing a call from the college president to become role models to all who follow.
Nearly 2,000 students were eligible to walk across the stage at the King Center for the Performing Arts on the Melbourne campus during two Dec. 19 commencement ceremonies.
The graduates comprised the inaugural class from Eastern Florida, which changed its name July 1 to reflect its expanding mission to offer four-year Bachelor's Degrees. It was previously known as Brevard Community College.
College President Dr. Jim Richey told the graduates they will be important role models for the college in "letting others know the valuable lessons you learned."
"During your time here you explored your potential, you took steps to achieve your dreams, and you leave here today confident that you are on the road to a successful life.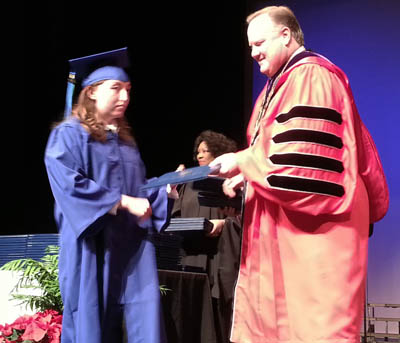 "Like your parents, family members and friends, I'm extremely proud of you. I have great confidence in what the future holds, knowing the personal qualities that brought you to this wonderful moment will guide you in the years ahead," said Richey.
Video replays of the ceremonies can be viewed on the college's livestream channel. They will be rebroadcast on WEFS-TV on Jan. 21 at 7 p.m. and Jan. 25 at 2 p.m. Photos are also posted on the college's Facebook page.
The 2,000 students eligible to attend commencement included almost 1,200 receiving degrees for the fall term and another 800 who received their degrees at the end of summer term in August when no ceremony was held.
The students join 90,000 others who have graduated from the college since it opened in 1960.
Among those congratulating the newest graduates was Florida governor Rick Scott who issued a public letter to all Florida college graduates who received diplomas this fall term.
Eastern Florida moved in a new direction when it launched its first two Bachelor Degrees in August. Another eight Bachelor Degrees are scheduled to start in August 2014, pending approval from the Florida Department of Education.
The four-year degrees are in Business, Health Care and Information Technologies.
About 30,000 students take courses annually at Eastern Florida on the Titusville, Cocoa, Melbourne and Palm Bay campuses, and online.
It's recognized as one of the leading state colleges in Florida and the United States, and has among the top graduation rates in the 28-member Florida College System.
The name change to Eastern Florida State College reflects its commitment to offer more opportunities for in-demand jobs to graduates, and provide local and regional businesses with the 21st century workforce they need to successfully compete in the global economy.
The college also continues to offer its traditional curriculum of more than 100 two-year degrees and certificate programs, including several new associate's degree programs this year and in 2014.
College leaders believe the new four-year degrees will advance the institution's role as a key asset in spurring economic growth, with Eastern Florida contributing nearly $1.1 billion annually into the Brevard and Central Florida economies.
The impact comes in the form of direct spending and the higher wages and advanced skills of its graduates, according to a study conducted earlier this year by the Florida College System.