Florida Today Honors Volunteers at Cocoa Campus Event
NEWS MEDIA CONTACT:
Contact: John J. Glisch, Associate Vice President, Communications
Office: 321-433-7017
Cell: 321-794-0324
Email: glischj@easternflorida.edu
Florida Today Honors Volunteers at Cocoa Campus Event
Eastern Florida freshman Logan Morris, pictured with college president Dr. Jim Richey, was among those honored at Florida Today's Volunteer Recognition Awards.
November 7, 2013 - For many Brevard County residents, helping your neighbor is a committed way of life.
Those who exemplify that creed were honored Thursday during the 22nd Annual Florida Today Volunteer Recognition Awards at the Simpkins Fine Arts Center at Eastern Florida State College, including an EFSC student and a college Foundation board member.
Several hundred community leaders gathered at the event heard college President Dr. Jim Richey praise the volunteers, saying "they work tirelessly, they shun the limelight and they believe that we truly are our brothers' keeper.
"We are fortunate to have them in our midst, and to call them our friends, our neighbors and our colleagues."
Florida Today President and Publisher Jeff Kiel also lauded the volunteers for their work in making the Space Coast a better place to live.
"I am proud of our Volunteer Recognition Awards Program, Brevard's marquee event which annually honors individuals and businesses who demonstrate the true spirit of volunteerism and philanthropy," said Kiel. "Each year, the awards program also marks the official kick-off of the Reaching Out Fund Drive, which raises money for gifts of toys and books for kids in need during the holiday season. This year, we are even expanding the program to also make the holidays a little brighter for the aging population living alone."
The winners are:
Organization: Rolling Readers Space Coast
Rolling readers attacks the problem of illiteracy by providing classrooms a trained "read aloud" volunteer one day per week as well as a new, high-quality, hard-cover book to each student in the class. An average 5,000 books are given out every year with more than 78,750 books distributed since the program began. The volunteers are primarily retired local citizens who also serve as role models for the children.
Business: GrayRobinson, P.A.
The law firm's wide-reaching mix of supported causes has a countywide impact on more than 100 organizations, programs and events. The areas include education, income, basic needs, civics, arts, business, medicine, parenthood, law and more. The attorneys at the firm offer their services pro bono to a variety of individuals and organizations. They also give generous monetary donations to Brevard County Legal Aid.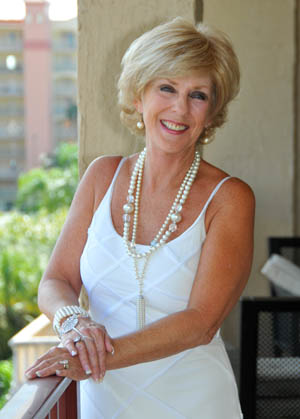 Honoree Susie Wasdin, EFSC Foundation Board of Directors
Volunteer: Logan Morris and Susie Wasdin
Morris is a full-time student at Eastern Florida State College who started a special needs dance team, growing it from eight to 22 dancers the past year. As coach the EFSC freshman provides the dancers the social, physical and intellectual stimulation they need. Team members, their families and others have been united and inspired by the team and Morris' example.
Wasdin has founded, chaired, hosted or donated to countless organizations and events for many years, offering her business savvy to further drive their success. She sits on the board of many organizations, including the Eastern Florida State College Foundation Board of Directors. Wasdin has also donated money and secured funding from other donors to worthy causes.
Citizen: Michael S. Hubler
Hubler is a community supporter who lends his skills to a diverse group of organizations. He has co-founded two important ventures: A Vision of Hope, a six-month drug and alcohol recovery program that operates three recovery houses in the county, and Steady Family, which works with families of homeless children attending Brevard Public Schools to help them become self-sufficient. As Executive Director of South Brevard Sharing Center, he has increased its reach. The center helps more than 5,000 people a month receive basic needs, and he has obtained over $1 million in grants and foundation support.