BCC Exhibity Showcases Faculty Artists
BCC Exhibit Showcases Faculty Artists
Bobbie McMillan, Passages, Clay
October 2, 2012 - Artwork created by Brevard Community College faculty members will be the focus of an upcoming show at the King Center for the Performing Arts on the Melbourne campus.
The Faculty Art Exhibit runs Oct. 15 through Nov. 4 in the Harris Corp. Lobby Gallery. It will include sculpture in ceramics, cloth, paper, and fibers as well as painting, drawing, printmaking and video installation.
Among the artists are Lynn Spencer, Nellie Brannan, Joanna White, Charles Nalle, Bobbie McMillan and Serhat Tanyolacar who teach courses in the humanities, art history and studio art on the Melbourne campus.
"We have an amazingly accomplished group of art professionals among our faculty," says Joanna White, the program coordinator for the Art Department on the Melbourne Campus.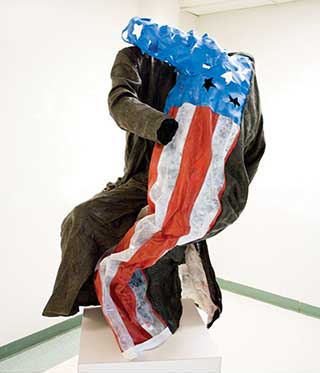 Serhat Tanyolacar, Kiss, Mixed Media
"They are dedicated to their art-making as much as they are dedicated to their teaching. We believe it's not enough just to show students how to make art in the classroom. We also model artistic discipline in our own lives and careers."
An example is Nalle, a nationally known ceramic artist who maintains a studio in downtown Melbourne and exhibits his work across the U.S. His students often see him use his talents "live" in the classroom, inspiring ideas for their own projects.
Says Spencer, a professor of humanities who also exhibits her work nationally: "One of the great pleasures of working at BCC is the opportunity to share in and witness the varieties of human energies, expressions and accomplishments. The students and the faculty here are a terrific source of inspiration for me."
Lynn Spencer, Simple Machines, Oil on Board
This year, Spencer has organized an art-themed fundraiser for Second Harvest Food Bank called "Empty Bowls and Open Arts" that features works by BCC students, staff and faculty. All proceeds from the sale of 100 ceramic bowls will go Second Harvest.
Tanyolacar is a Turkish-born artist who addresses political themes in his installation, performance and video-based work. His work was included in a recent Huffington Post article on the anniversary of 9/11.
Tanyolacar encourages his students to think bigger than materials and techniques and address concepts and important ideas through their projects. He will be exhibiting installation and sculpture pieces along with a video documentary on his work.
Nellie Brannan, Mr. Ed, Monoprint
Meanwhile, McMillan teaches ceramics and is the former director of the Renee Foosaner Education Center who says that "students are a continual source of joy and inspiration to me."
She maintains a home studio and has explored ancient ceramic sites in Greece and Crete.
Brannan teaches art history and tries to evoke a bit of whimsy in both the classroom and her art. She has led BCC study abroad students throughout Europe and brings interdisciplinary inspiration to her work through her activities in theater, such as her recent role in the "Drowsy Chaperone" presented by the Melbourne Civic Theater.
Joanna White, Is This the Ambush?, Junk Mail, Acrylic & Oil Paint, Thread
White, an assistance professor of art, says she is "literally indebted to my students for inspiration." Her paper-box constructions are currently on display in a solo exhibit at Birmingham-Southern College's Durbin Gallery in Alabama through Oct. 25.
"There's an old saying that goes, 'those who can't do, teach.' That is definitely not the case with the BCC art faculty. The variety and sophistication of their work is incredible," says Dr. Steven Long, department chair for Melbourne liberal arts.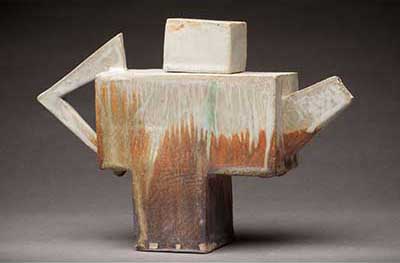 Charlie Nalle, Zapp 7, Stoneware Caly
Students taking art-related courses on the Melbourne campus visit the faculty exhibit with their classes. In addition to the annual faculty exhibit, the Melbourne campus also hosts a Juried Student Art Exhibit each April at the King Center.
The BCC Faculty Art Exhibit will be available for viewing during King Center performances to ticketed patrons. For more information, call 321-433-5717.